The Minx M. Auerbach Award for Excellence in Education is based on The Dinner Party Curriculum and is awarded to the teacher who best implements the curriculum in their classroom.
The Minx Auerbach Education Award Application guidelines and the
Through the Flower Student Material Permission forms are available for download here.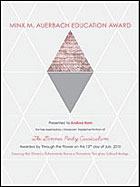 The Minx M. Auerbach Education Fund was established in 2009 in memory of Minx, a former board member of Through the Flower. Her husband, S. Pearson Auerbach MD, provided the initial gift and with their daughter, current Through the Flower board member, Penny A. Friedberg, defined the purpose of the fund as educational. Education was important to Minx; in particular she encouraged women to become educated and engaged in their community. She mentored many younger women during her career and years of community service. Minx was the first woman president of the University of Louisville Board of Trustees. In this role she profoundly expanded the roles and positions of women at the University. Additionally, she was president of almost every non-profit organization in the city of Louisville, KY during more than sixty years of community service.

Penny says her mother was "someone who loved people and moved and inspired her family and community. She was open, welcoming, empathetic, intelligent and filled with common sense. If she saw something needed to be done, she did it. She was a model for me and those she mentored."