Feminist pedagogy goals: effect social change; envision teaching as a political act; view knowledge as value-laden; value personal experience and self-representation; provide avenues for multivocality, and lead collaboratively in participatory environments.
Websites/Interviews
Through the Flower is a non-profit Feminist art organization founded by Judy Chicago in 1978. Their mission is to educate a broad public about the importance of art and its power in countering the erasure of women's achievements. The Legacy section is intended to help students, scholars and museums locate aspects of Chicago's oeuvre, in addition to her archives, which are split between the Schlesinger Library for the History of Women in America at Radcliffe/Harvard and Penn State University, which houses the Judy Chicago Art Education Collection.
The Elizabeth A. Sackler Center for Feminist Art at the Brooklyn Museum in New York.
Judy Chicago named to 2018 TIME 100, its annual list of the 100 most influential people in the world (April 2018).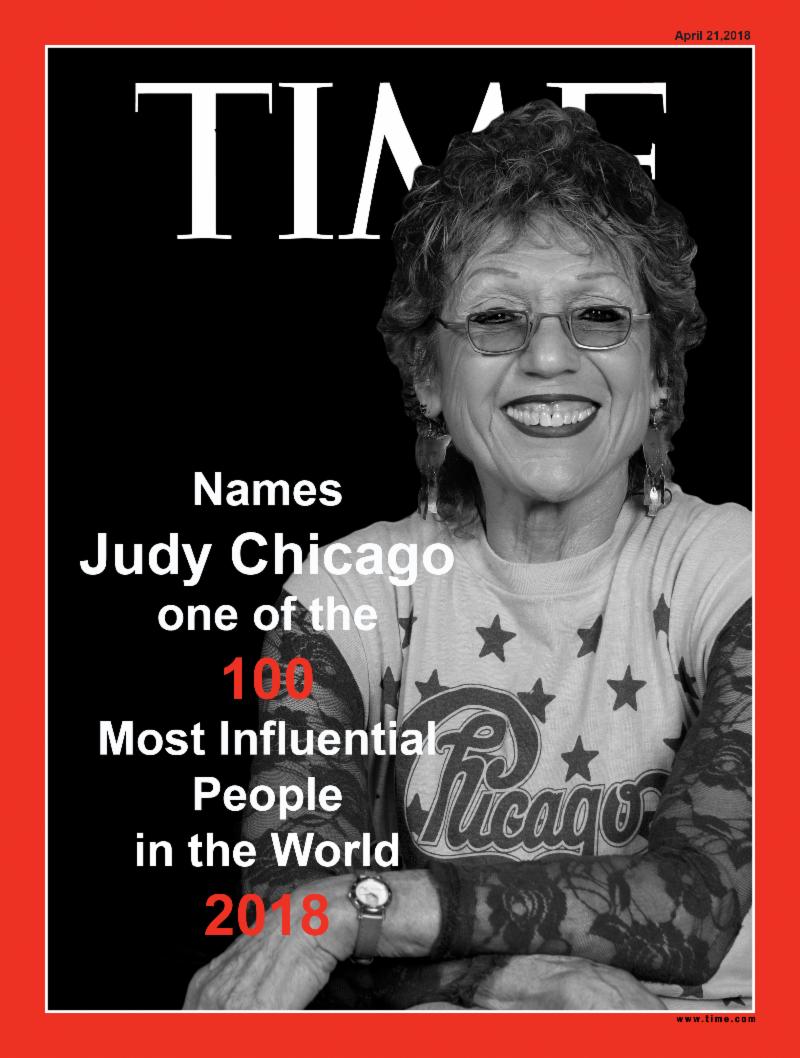 Judy Chicago, the Godmother. For decades, the feminist artist was
pushed to the sidelines. Relevant once again, she can no longer be ignored. By SASHA WEISS (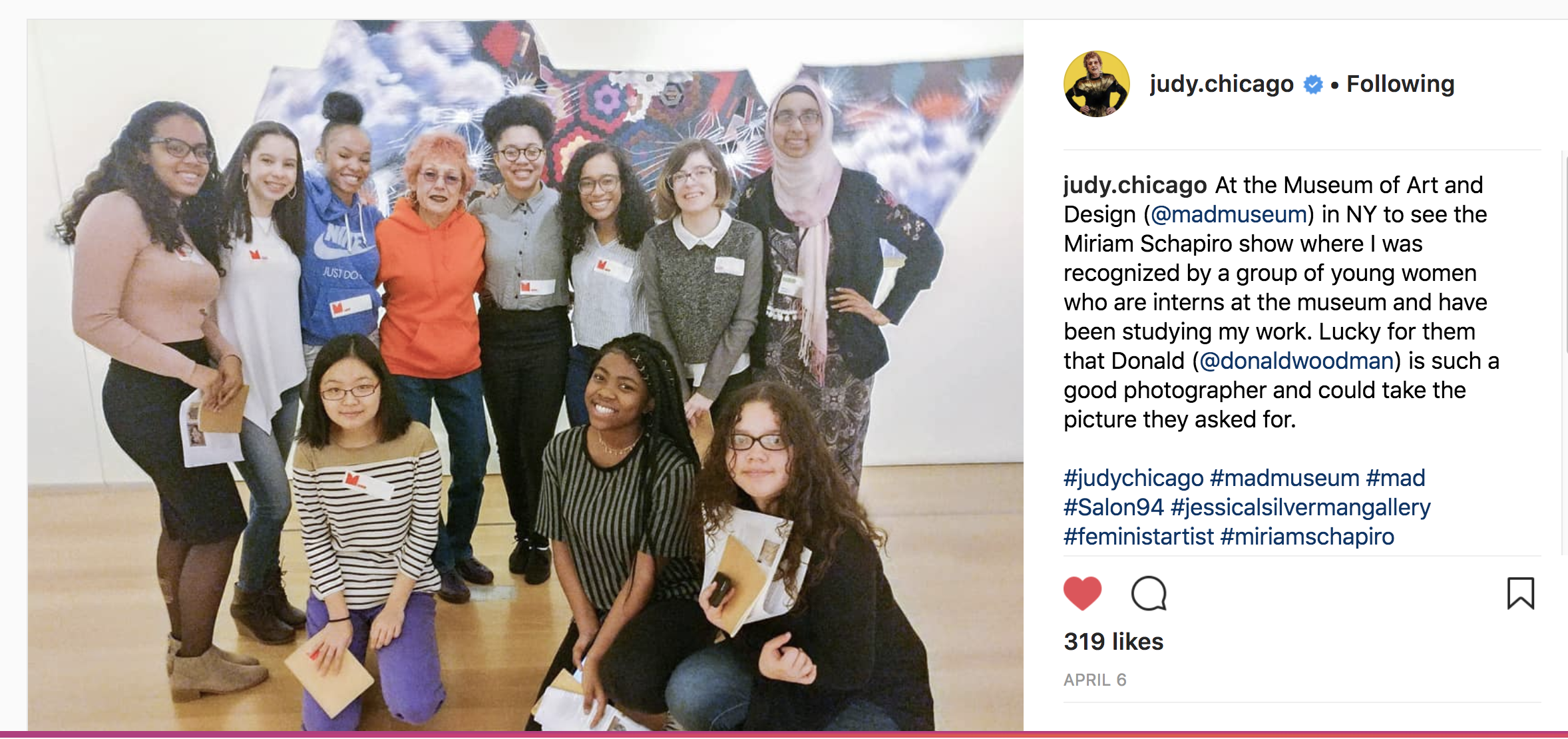 As the Getty Digitizes the Archives of the Woman's Building, Artists Remember Its History (HYPERALLERGIC. By Matt Stromberg, Nov. 29, 2018). "Founded by artist Judy Chicago, designer Sheila de Bretteville, and art historian Arlene Raven in 1973, the Woman's Building was an experimental art space that supported and encompassed public programs, artist groups, galleries, and educational resources, including the first independent school for women artists, the Feminist Studio Workshop." (para. 2)
Miami Show Explores the Evolution of Judy Chicago (The New York Times. By Farah Nayeri, Nov. 30, 2018)
Proposal for a Judy Chicago museum divides a New Mexico town (The Art Newspaper. By Ruth Lopez, Nov 28, 2018)
"Judy Chicago" [interview] Frieze: Contemporary Art and Culture, 176. January-February, 2016.
A reconstruction of 1970s Feminist Art Program at CalArts history is through letters written by the participants in the 1990s at http://www.encore.at/retracing/
Interviewing Judy Chicago (2014, Washington Post interview by Philip Kennicott)
Judy Chicago is on Artsy: https://artsy.net/artist/judy-chicago. Artsy,  has numerous exhibitions and posts about Chicago's work, including "In Conversation with Judy Chicago, Icon of Feminist Art" by Christine Kuan. See https://artsy.net/post/christine-in-conversation-with-judy-chicago-icon-of.
Happy Birthday Judy Chicago! (2012, Huffington Post interview by Katherine Brooks)
Pacific Standard Time, Judy Chicago
Pacific Standard Time: Judy Chicago's Upcoming Disappearing Environments: How Do You Make Art Out of Gigantic Pyramids of Dry Ice? (LA Weekly blog by Sam Bloch, Oct. 24, 2011)
Ellen Berkovitc interview with Judy Chicago on October 17, 2011 in which Chicago talks about Feminism, The Dinner Party, Through the Flower, and the Judy Chicago Art Education Collection at the Penn State archives.
National Art Education Association Women's Caucus News Column (on Judy Chicago, October 2011)
Jori Finkel of the Los Angeles Times interviews Judy Chicago (October 30, 2011)
Chrysalis: A Magazine of Women's Culture (1977-1980) was a short-lived, but influential feminist publication. Jenni Sorkin reflects on the feminist publication Chrysalis (October 31, 2011) "Second Life: Chrysalis Magazine"
Judy Chicago on BBC Women's Hour
June 17, 2011 (10 minutes, 24:10-34:00)
Ten Questions for Judy Chicago Interview by Christine Kuan (November 10, 2010).
Judy Chicago on feminist art at SFMOMA (3:07 min. video, Oct 25, 2010)
Judy Chicago recounts the experience of being a woman artist in the 1960s and 1970s, when the art world was dominated by men.
The Womanhouse Online Archive is a website, home, and resource for the historically significant Womanhouse, a 1972 site specific work, conceived of by Paula Harper and led by co-founders of the Cal Arts Feminist Art Program, Judy Chicago and Miriam Schapiro. In 2009 curators Suzy Spence and Leslie Brack researched and built a website on the occasion of their tribute exhibition, The Mood Back Home, an Exhibition inspired by Womanhouse at Momenta Art in Brooklyn.
National Art Education Association Women's Caucus Research and Resources on Feminist Art Pedagogy
National Art Education Association Women's Caucus VOICES blog generative conversation on "How might art educators work with the Judy Chicago Art Education Collection?"
Oral history interview with Judy Chicago, 2009 Aug. 7-8, by Judith Olch Richards, for the Archives of American Art, at Chicago's home and studio, in Belen, New Mexico.
Judy Chicago live interview at Studio Q TV in Canada on April 30, 2009 (16:22 min.)
SFMOMA Interactive Feature: Judy Chicago's Female Rejection Drawing (October 2000)
Women and Art: An Interview with Judy Chicago (in Gadfly, 1999 by John W. Whitehead)
Faith Wilding (a key participant in the Feminist Art Program at CSU Fresno and CalArts) spoke on the panel "Third Wave Feminisms" (2:44 min. excerpt) at Exquisite Acts & Everyday Rebellions: 2007 CalArts Feminist Art Symposium, a student-organized project that took place at CalArts on March 10, 2007.
Feminism + Art Art History Teaching Resources
Jewish Women Archives (entry on Judy Chicago by Debra Wacks, 2005)
Women's Audio Archive [WAA.009/010] of a 90-minute interview with Judy Chicago at The Blackie in Liverpool (12/10/81)
Sassy Judy Chicago Throws a Dinner Party, but the Art World Mostly Sends Regrets (by Lee Wohlfert, December 8, 1980, People, Vol. 14, No. 23)
The Dinner Party Institute 2016
Add additional links or publication citations or resources at the Judy Chicago Art Education Collection Forum on Feminism and Art, or the forum on News and Events.