2020 Judy Chicago Art Education Awardees, Camellia Termini & Sarah Walser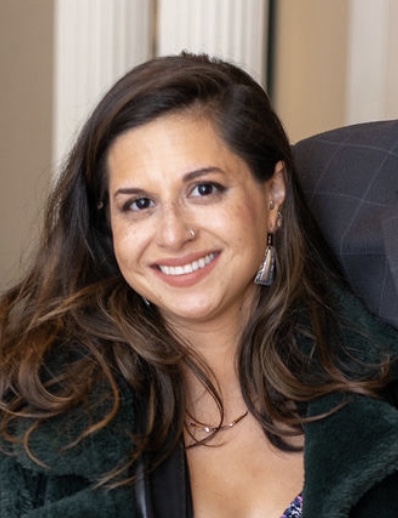 Butterfly for Belen is a project developed by Camellia Termini, a third-generation visual artist and a Visual Arts Educator at the Belen Middle School. Termini will use Judy Chicago's archives to support Belen youth artists' exploration and documentation of gendered identity related to environmental concerns through reflective practice and image-making. Termini, who holds a BFA in Photography and an MA in Teaching from the Maryland Institute College of Art, will work with Belen area youth to develop critical arts-based skills connected with empowerment and social action. Chicago's butterfly motif, "an image of liberation and resurrection," will also be used as a reference point for student dialogue and making. Chicago's archives will include "The Dinner Party K-12 Curriculum" at Penn State Library, Visual Archives at the National Museum of Women in the Arts, and the Firework's Archives at the Center for Art + Environment Archive Collections at the Nevada Museum of Art.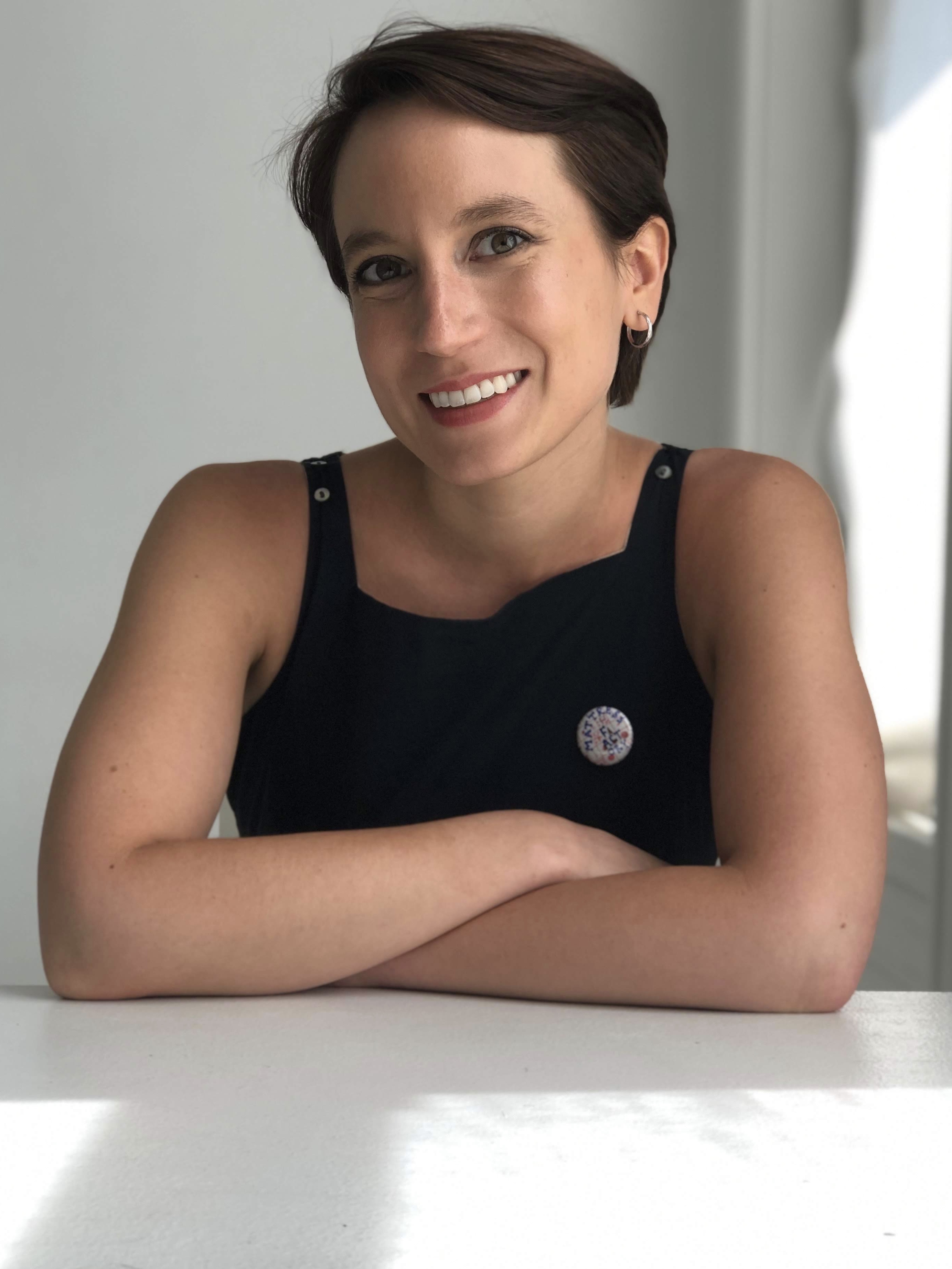 Sarah Walser: I am particularly interested in how medical language, and healthcare providers as purveyors of such language, gives false legitimacy to oppressive social constructs. My two-part project explores this from the perspective of structural ignorance, rather than simply an absence of knowledge. Building off my previous work on the conflation of social constructs about sexual purity with biology, I will survey medical providers and students on their beliefs about the physiologic basis of virginity. The second part of my project is a self-reflective exercise for medical students focused on Judy Chicago's piece, At Home. Students will read work by Nancy Tuana on the epistemologies of ignorance, and then engage with the At Home archival materials with particular attention to the theme of ignorance and what remains hidden (rape, prejudice, body image, etc.). Later, students will meet for a discussion centered on: the significance of personal identity and background (gender, race, etc.) in what we know and what we cannot know; ignorance as a social and political power; how ignorance is preserved; recognizing our own ignorance; the role of the medical community in perpetuating oppression.
2019 Judy Chicago Art Education Awardee, Chelsea Borgman
Chelsea Borgman was inspired by feminist artist Judy Chicago's Womanhouse to develop her own project reflecting females' experiences. Borgman's proposal for "Inside the Dollhouse," an art installation revealing the thoughts and dreams of teenage girls. Borgman received the 2019 Judy Chicago Art Education Award, which will provide the funding to turn her proposal into reality. The Award Ceremony took place at The Radcliff Institute on October 17, 2019, hosted by the Schlesinger Library as part of the Judy Chicago Research Portal launch. The virtual portal links Judy Chicago collections housed at Penn State University Libraries; the Arthur and Elizabeth Schlesinger Library, Radcliffe Institute, Harvard University; and the National Museum of Women in the Arts.
Borgman's project, involving a group of five to 10 teenage girls in State College, Pennsylvania, includes building a dollhouse reflecting the teens' thoughts on social and political issues that affect their lives—not only as students, but as young women. After visiting the Judy Chicago archives at Penn State and viewing the At Home scale model, each participant will create a room within the dollhouse that incorporates their own experiences with these issues, in the hopes of sparking a conversation.
Borgman, who is pursuing a dual-titled master's degree in art education and women's, gender and sexuality studies, said Womanhouse has been a huge inspiration for her own research. Womanhouse was a feminist art installation and performance space organized in early 1972 by Chicago and Miriam Schapiro, co-founders of the Feminist Art Program at the California Institute of the Arts.
"In preparation for the award proposal I spent time in the (Judy Chicago Art Education Collection archive) looking at the planning materials for Womanhouse and considering how I could apply the core concepts to a younger generation," said Borgman. Borgman considers Judy Chicago one of the foremost feminist artists of her generation. "When I took AP Art History in high school, Judy Chicago was the only feminist artist that was listed in the textbook. This says a lot about Judy Chicago, but it also says a lot about our history."
The Judy Chicago Art Education Award was established by Through the Flower to support artists, scholars and educators who, through their art, research, teaching and leadership, have contributed to ending the erasure of women's history.
"Inside the Dollhouse" is intended to represent a culture and history with sexist ideals about women. Borgman said the creation of dollhouses in the United States is a loaded concept, with their focus on the idea that all girls dream of becoming housewives. Also, for boys, dollhouses are often not considered an "appropriate" toy, because they are not masculine. "By using a symbol synonymous with girlhood to question the social construction of girlhood, we can really hone in on critical concepts and make stark comparisons," said Borgman.
Through "Inside the Dollhouse," Borgman hopes to introduce teen girls to the work of Judy Chicago and other feminist artists. She wants the project to help people to think more critically about perceptions of girlhood. Borgman said the backbone of her project is the issues her participants face, such as eating disorders, body image, abuse, self-harm and gun violence.
"As they create their own mini installation in the dollhouse, I hope they begin to see the power of art to connect disparate ideas and add nuance to complicated political and social topics," said Borgman. "Girls represent a powerful demographic of political insight and change—it's about time more people realize and appreciate the important views and ideas girls have to contribute to the larger conversation."
2018 Judy Chicago Art Education Awardee, Melissa Leaym-Fernandez
Melissa Leaym-Fernandez's research of the Judy Chicago Art Education Collection at Penn State's Special Collections inspired the project, "To Honor Our Mothers." Middle school students and third graders at Holmes STEM Academy in Flint, Michigan, interviewed their mothers about the lives of the women they knew as "mother." The women shared childhood fears, people they loved and admired, dreams they had—and what made them happy in their daily life. The students chose a word or phrase and created a symbol to represent their mother as the elements of their quilt square. While one third grader referred to his mother as "hood person," most children expressed love, admiration, and appreciation with their words and symbols on their quilt square. The completed quilt is a beautiful expression by youth about their mothers. This project provide nourishment to the students' creative spirit despite the conditions of their lives including toxic water, school and community violence, and extreme poverty.
The Judy Chicago Art Education Award made this project possible with the generous support of Through the Flower and author Faye Kellerman. In addition, the Dreaming Zebra Foundation donated sewing machine for the project.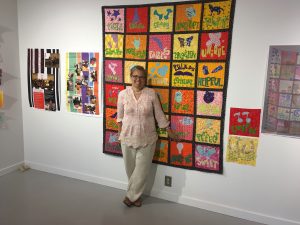 The award ceremony was part of the inaugural US-China Art Summit at Penn State.
See more about the awardee at Penn State School of Visual Arts.
On behalf of Through the Flower – and the generosity of author Faye Kellerman, Leah Krueger, Jessica Provow, and Anne Baker from Virginia Beach Middle School are presented with The Judy Chicago Art Education Award in 2017 for their exemplary nine-week classroom implementation of Creating Tribute: The Judy Chicago Project.

Click here to view the award ceremony on March 17, 2017.
The ceremony was held as part of Art+Feminism wiki-edit-a-thon at Penn State.
Penn State School of Visual Arts award story is linked here.
Inspired by Judy Chicago's "The Dinner Party," 8th grade students in the 2017 award-winning project were presented with the challenge of identifying people that have "changed the world for the better." In response to the first studen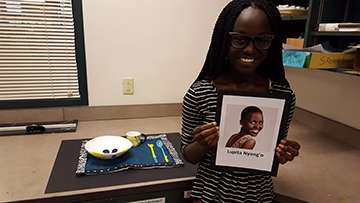 t generated list, the teachers facilitated discussions with the students asking why the predominance of White men on their list and so few women and people of color represented. The discussion motivated students to research fields of study that they are interested with a quest to learn about the women who have advanced knowledge and contributed significantly to society with their work. From their research, the students created sculptural dinner place settings with each work of art symbolic of a women and the context of her life. The students presented their art to each other and discussed the symbolism and the importance to honor through art the people who have made the world a better place. NASA scientist Kate Rubins, actress Lupita Nyong'o, Olympic gold medalist Misty May Treanor, theoretical physicist Lisa Randall, Queen Elizabeth II, and artist Sandy Skoglund are just some of the women honored by the students through their art creations.
Click here to download the curriculum with examples
. [Photo: Fawziya Gyamfi with her place-setting honoring Lupita Nyong'o.]
Connie Lavelle received The Judy Chicago Art Education Award in 2016 for her explicit use of Judy Chicago's participatory art pedagogy with The Dinner Party Curriculum Project Encounter 10, "The Artist's Voice," in teaching 12th graders who collaborated with 4th graders.
The project, "Creating Visual Voices," resulted in unique art that concerns doing a "better job of living in harmony with each other and the earth" (as quoted from Judy Chicago, 2001, Made in California: Feminist Art Education: "Mellowed as I am by maturity, I don't believe we'll ever attain Eden. However, I believe we could do a far better job of living in harmony with each other and the earth. The principles of cooperation that are embodied in both feminism and feminist art education are, could be, a great contribution.") Connie Lavelle applied Judy Chicago's participatory art pedagogy beginning with students' self-presentations in which students wrote and presented poems about themselves that were modeled and inspired by the poem "Where I'm From" by George Ella Lyon. The "Where I'm From Self-Portrait" lesson plan is linked here. Using Chicago's circle pedagogy, students discussed Judy Chicago's art, The Dinner Party, and Holocaust Heroes: Fierce Females: Sculptures and Tapestries by Linda Stein. The curriculum with examples is linked here. Two lessons from Lavelle's curriculum are linked here: "Social Issue Art" and "12th and 4th grade collaboration." [Photo: Connie Lavelle holding her framed award next to Karen Keifer-Boyd, Coordinator of the Judy Chicago Art Education Collection and award. The ceremony was held as part of The Penn State Seminar in Art Education @ 50]
Brenna Johnson honored with The Judy Chicago Art Education Award in 2014.
The Judy Chicago Education Award review committee was impressed with Brenna Johnson's submission "Judy Chicago Reinvented through Soft Sculpture," especially in her explicit use of Judy Chicago's participatory art pedagogy with The Dinner Party Curriculum Project encounters, extending the encounters with the development of resources used in her teaching, and her narrative with examples to support analysis and description. While Johnson's was among several that fulfilled and exceeded the criteria for the award, hers rose to the top because the curriculum, teaching, and evidence of student learning most embodied feminist goals. The award ceremony was part of the Judy Chicago Symposium held at Penn State on April 5, 2014. Click here for Brenna Johnson's curriculum.
Jennifer Mazziotta-Walters (2013 Minx M. Auerbach award curriculum "Exploring, Allocating, Creating, Sharing, & Discussing Voice" for 8th graders)
In the fall of 2012, the eighth grade class of Harmony Township School took part in The Dinner Party Project. This was a two-month long interdisciplinary project between the art, technology, and language arts department that related to the big idea of extending voice through art. The twenty-nine students, along with nine teachers, investigated women's history, feminism, culture, and art using The Dinner Party as inspiration. Click here for Jennifer Mazziotta-Walters curriculum.
Brandy Noody (2012 Minx M. Auerbach award curriculum): Heros (for High School)
Brandy Noody adapted parts of The Dinner Party Curriculum as a semester-long unit, using the enduring idea, "Art has been used throughout history to immortalize." The unit, Heroes, included a detailed classroom facsimile of Judy Chicago's installation, the creation of banners featuring a personal hero, a whole-class quilt project, and visits from local artists who demonstrated needlework techniques. Brandy also kept a visual journal of the semester, and noted her observations, questions, and reflections on the class.
Through in depth use of The Dinner Party Curriculum, Brandy Noody set the following curriculum goals:
to promote gender equity
to shift from product-making to meaning-making
to establish a group atmosphere
Brandy Noody describes: "I began the school year focusing on the big idea of heroes. The enduring idea I sought to instill in my students was, 'Art has been used throughout history to immortalize.'" Essential questions addressed were:
What is a hero?
What qualities does a person need to be classified as a hero?
In what way do we immortalize our heroes?
Brandy Noody adapted several different Encounters from the curriculum to suit these goals. In particular, she used the following Encounters, in this order: 2, 8, 7 & 10, 3, , 4, 5 & 6, 1, and 13. Click here for Brandy Noody's curriculum.
Deborah Filbin (2011 Minx M. Auerbach award curriculum): Inspiring Women (for High School)
In her Art Fundamentals class, Deborah Filbin adapted six Encounters from The Dinner Party Curriculum, creating a unit plan to engage her students in a deep exploration of The Dinner Party, and its focus on the women written out of history. Deborah incorporated lessons on art criticism, the history of the second wave Women's Movement in the 1970s, and a look at a variety of feminist art. She included an activity in which students mapped out the size of the installation The Dinner Party in the school gymnasium so they could comprehend the scale of the work. Finally, students created works honoring women who positively impacted their lives. Deborah Filbin adapted Encounters 2, 3, 6, 7, 8, and 10. Click here for Deborah Filbin's curriculum. Deborah Filbin prepared three presentations for her curriculum, which are linked below:
Andrea Reish (2010 Minx M. Auerbach award curriculum): Mothers of Mother Earth (for Elementary School, adaptable to Middle and High School)
Andrea Reish created a unit called Mothers of Mother Earth. Within the unit are two lessons, Who Has Made Great Contributions to Our World, and A Feast of Women's Contributions. She was honored with The Minx Auerbach Award for the lesson A Feast of Women's Contributions, which she taught to 5th grade students at Muhlenberg Elementary School in Allentown, Pennsylvania. Andrea Reish's lessons are part of Encounters 2, 7, and 10.