Research Publications Utilizing the Judy Chicago Art Education Collection at Penn State
Doctoral Dissertations
2017 • Hyunji Kwon, Ph.D., Art Education & Women's, Gender, & Sexuality Studies—Dissertation: Performing Witnessing: Art, Sexual Trauma, and Feminist Pedagogy
2016 • Yen-Ju Lin, Ph.D., Art Education—Dissertation: Designing with Information and Communications Technologies for Event Potentials in an Art Museum Context
2015 • Ann Holt, Ph.D., Art Education, minor Women's, Gender & Sexuality Studies: A Case Study of User Experience with Archives: Feminist Teaching Conversations with the Judy Chicago Art Education Collection at the Pennsylvania State University Archives
Books, Chapters, & Journal Articles
Keifer-Boyd, K. (2014). Disrobing male drag: Bridging Judy Chicago's exhibitions. In Judy Chicago at Penn State [exhibition catalog]
Presentations
Independent scholar and teaching artist Rebecca Goldschmidt works in participatory photography programs in southern California and Tijuana, Mexico. She is the founder and coordinator of Las Photos Project, a photography mentorship program for young Latinas. In 2016, she presented at Penn State on what she learned from her archival research with the Judy Chicago Art Education. An excerpt from her presentation is linked here.
Research
The Judy Chicago Art Education Collection continues to inspire researchers and educators in many ways. Angelique Szymanek, 2015 recipient of an award sponsored by the Special Collections Library to travel to Penn State to research the Collection, focused her research on the relationship between feminist art production and the anti-rape movement in the US throughout the 1970s. Chicago's feminist pedagogy, she claims, was one of the conditions of possibility for the artistic engagement with the subject of rape throughout the 1970s. Her presentations on this led to a lively and varied perspective discussion with the students.
The Collection also inspires research by visitors from outside the US. A professor from Beijing Normal University, Yuxi Chen, was a full year visiting scholar at Penn State in 2015-16, who came to research Judy Chicago's teaching methodology, working with the archive to bring back to the context of China art education. She is particularly interested in Chinese art students bringing their life experiences and ideas into their art in such a way that they move beyond the personal and into a larger frame of reference, and is studying the archives to learn Chicago's approach for how to do this.
Art+Feminism edit-a-thons at Penn State:  2015-2018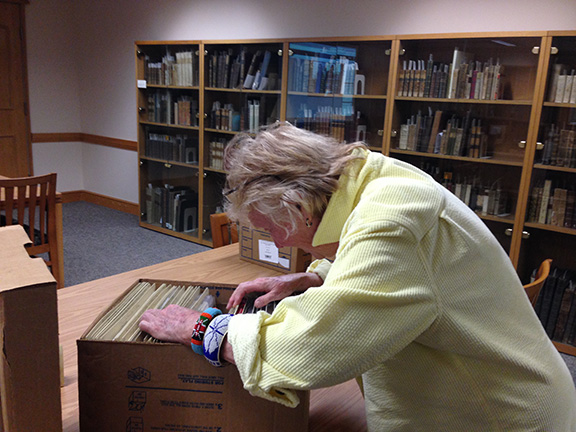 2016 event
When this happens / Then that happens = Working Wisdom
A presentation by Susan Hill on March 4, 2016 at Penn State
Susan Hill was a principle artist with Judy Chicago in developing and creating the monumental art work, The Dinner Party (1975-79). Susan contributed the idea of needlework / embroidered runners, became Head of Needlework for the project, training and collaborating with scores of workers who helped design and produce each hand-worked textile in the studio. Hill co-authored with Chicago, "Embroidering our Heritage: The Needlework of The Dinner Party" (1980, Doubleday), and is narrator of Johanna Demetrakas' documentary film, Right Out of History (1980, Johanna Demetrakas, 75 min).
Susan Hill, along with Dr. Karen Keifer-Boyd, professor of Art Education and Women's, Gender, and Sexuality Studies at Penn State, coordinator of the Penn State Art+Feminism edit-a-thon, and scholar of feminist art pedagogy, facilitated discussion with the group to identify emergent interests and issues specific to the participants in order to focus Wikipedia entries, in asking what is missing or misinformed in Wikipedia entries on feminist art teaching, writing, art making, and community making.