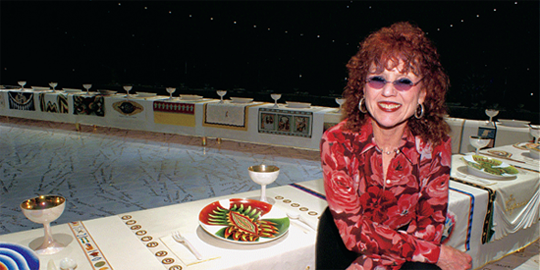 The goal of The Dinner Party Curriculum Project is to provide teachers with guidance to help their students develop a deep understanding and appreciation of The Dinner Party and what it teaches us about women's achievements throughout Western civilization. While The Dinner Party Curriculum has been developed by and for art educators, it is also relevant for the study of history, social studies, English, and language arts.
The Dinner Party Curriculum Project consists of 14 "encounters" that are adapted versions of the activities planned for the summer institute at The Department of Art Education and Crafts at Kutztown University. The Encounters are accompanied by lessons, activities, and resources developed and implemented by the institute teachers.
The creative work and the careers of artists and art students who have participated in Judy Chicago's feminist teaching projects have advanced in significant ways. How does Chicago guide others to translate content to form in art?Can others learn Judy Chicago's art teaching approach, further developed in recent years in collaboration with partner Donald Woodman? How successful is the methodology when others of different gender and status apply Chicago's approach?
An archive of the Judy Chicago's Participatory Art Pedagogy linked here is a multimedia presentation of her teaching methodology developed by Karen Keifer-Boyd from her analysis of Chicago's pedagogy informed by interviews and observations conducted in 2002 and 2003 with those who had experienced Judy Chicago's feminist art pedagogical approach in a collaborative artmaking project, At Home in Kentucky, as well as from interviews with Judy Chicago in 2002 and 2003 concerning her teaching methodology in the At Home project in 2001 and the Womanhouse project in the 1970s; and from observing and discussing interim analysis with Judy Chicago in 2003 while she was in the midst of teaching her methodology to others at the Envisioning the Future projects.