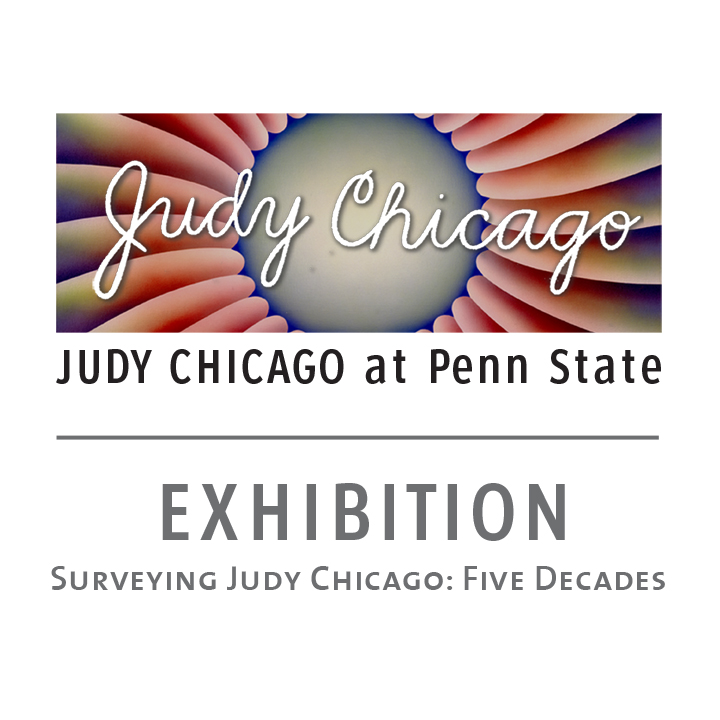 In 2011, Penn State acquired the Judy Chicago Art Education Collection, one of the most important private collections of archival materials on feminist art education. Open to the public, it is housed in the University Archives in the Special Collections Library (104 Paterno Library) and includes videos, photographs, and notes on Chicago's teaching projects.
In honor of Chicago's 75th birthday in 2014, and in celebration of the Penn State School of Visual Arts' relationship with this pioneering artist, educator, and author, the University will host a symposium, exhibitions, lectures and other events highlighting Chicago's work, throughout the spring 2014 semester.
Exhibition: Surveying Judy Chicago: Five Decades
January 21–May 11, 2014
Palmer Museum of Art
The Palmer Museum of Art kicks off a semester of campus-wide events celebrating the indefatigable artist, educator and author by presenting "Surveying Judy Chicago: Five Decades," a major exhibition opening Jan. 21 that charts her remarkable—and ongoing—career. Read the full story: http://news.psu.edu/link/RsfcM9WN
2014 Judy Chicago Friday Gallery Talks at the Palmer Museum of Art
January 24, 31, February 14, 28, March 21, April 11, 18 (begins at 12:10 p.m.)
"Feminism(s) in the Gallery," "Futures of Feminist Pasts," "Mirror, mirror on the Wall, Who's the Finest of Them All?: D(EVALUATION) of Black Female Beauty," "Paper Tigress: Graphic Images of Female Power," "The Vagina Dialogues," "Judy Chicago and the Promise of Utopia," "The Conversation Around the Table: Feminist Art and the Transnational," "Judy Chicago Views" (Attend all as a 1-credit course, AED 497A: Feminist Art Gallery Conversations, 12:00-1:00 p.m.)
Exhibition: From There to Here—Four Decades as a Feminist Artist
Exhibition by Nancy Youdelman, former student of Judy Chicago and current faculty member in the Department of Art and Design at California State University, Fresno
March 3–April 7, 2014
Borland Gallery

Video podcast of Youdelman's lecture is linked here.
Symposium: Judy Chicago: Planting a Feminist Art Education Archive
April 5–6, 2014
Schedule and registration is at http://judychicago.arted.psu.edu/news-events/events/symposium/
Register Now
Symposium Keynote Lecture by Judy Chicago: "Institutional Time: A Critique of Studio Art Education"
Saturday, April 5, 2014, 5:30 p.m.
Bergh Auditorium, Life Science Building
Register Now
Exhibition: Judy Chicago Views
(selected works on paper from the Palmer's permanent collection)
Curated by Judy Chicago, artist, and Karen Keifer-Boyd, professor of art education and women's studies
Sunday, April 6, 2014, 5:00–7:00 p.m.
Friday, April 25, 2014, 10:00 a.m.–4:30 p.m.; conversation with Karen Keifer-Boyd, 12:10 p.m.
Print Study Room, Palmer Museum of Art
Exhibition: Challenge Yourself: Judy Chicago's Studio Art Pedagogy
March 24–June 13, 2014
Special Collections Library, 104 Paterno Library
Exhibition: Out of Here
 (featuring work by students in special topics course on Judy Chicago)
March 19–April 27, 2014
Art Alley, HUB Galleries
Spring semester, Thursdays, 2:30-5:30 p.m.
207 Arts Cottage
See Course Description
8 Fridays from 12:00-1:00 p.m. at the Palmer Museum of Art
January 24, 31 | February 14, 28 | March 21 | April 11, 18, 25
See Course Description
Film Series
Spring semester, Thursdays, 6:30-8:30 p.m.
207 Arts Cottage