Grade Levels: Upper-Elementary, Middle, High School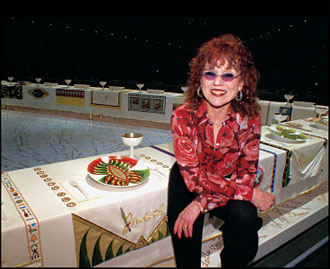 In this Encounter, students view a video recording and hear from the artist, Judy Chicago, as she introduces The Dinner Party, explains how she began to work on the project, how others eventually came to join her, and how their work continued toward the completion of the artwork. Chicago provides a tour of The Dinner Party, one "wing" of the triangular table at a time, while revealing her intentions and making connections among materials, techniques, and symbolism in the plates, runners and the Heritage Floor.
The artist's voice and perspective enhance the students' appreciation and understanding of the artwork. Close-up views of needlework are accompanied by the artist's rationale for using various techniques for runners, and for what she calls the "millennium triangles" found at the three junctures of the table. Although students have been introduced to the notion of metaphor, their understanding is enhanced when they hear the artist refer to the various metaphors in the artwork. Ultimately, students learn that the artist often can offer important contextual information, contributing greatly to what they know and value about an artwork. To view the entire Encounter, download the PDF for Encounter 10: The Artist's Voice and its Classroom Connections by clicking on the buttons below.
Back to Encounter 9 | Encounter 10 | Go to Encounter 11
Encounter 1 | 2 | 3 | 4 | Feminism | 5 | 6 | 7 | 8 | 9 | 10 | 11 | 12 | 13 | 14