Grade Levels: Upper-Elementary, Middle, High School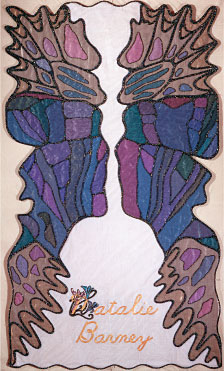 In this Encounter, students continue to explore contextual information important to The Dinner Party-the symbolism of the butterfly and the historical significance of the women whose names appear on the Heritage Floor. Students first review symbols they have encountered in their previous investigation of The Dinner Party.They then learn about the butterfly from scientific and cultural-historical perspectives, and speculate as to why Judy Chicago used butterfly symbolism in the artwork. They return to The Dinner Party place settings, noting uses of the butterfly imagery as well as the names of women on the Heritage Floor adjacent the place settings. From the names on the Heritage Floor, students select one or more women and investigate her history and contributions.
Judy Chicago used the butterfly symbol to teach women's history and to "symbolize liberation and yearning to be free" (Chicago, 1979, p. 52). The butterfly metaphor becomes more salient as students dig deeper into the many components of The Dinner Party and gain an enriched understanding of the artwork. As they learn more about the women whose names are inscribed on the Heritage Floor and recall the criteria used to determine which women would have a place there, students are reminded of the continuing importance of supporting the interests and needs of women now and throughout time. In addition to continuing to enrich their understanding of The Dinner Party, this Encounter provides students with an opportunity to think of themselves in a larger context and how they, too, can contribute to society. To view the entire Encounter, download the PDF for Encounter 9: On the Wings of a Butterfly by clicking on the button below.
Back to Encounter 8 | Encounter 9 | Go to Encounter 10
Encounter 1 | 2 | 3 | 4 | Feminism | 5 | 6 | 7 | 8 | 9 | 10 | 11 | 12 | 13 | 14