Grade Levels: Upper-Elementary, Middle, High School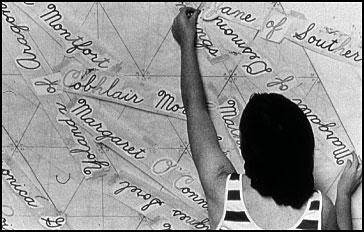 In this Encounter, students apply the criteria used by Judy Chicago and "invite" women to join the others at The Dinner Party table. Each student presents a symbolic representation of the nominee, along with a statement outlining reasons for the selection, to a group of five or six students. The group must select only one of the nominated women to present to the whole class. The ensuing discussion and debate mimic how Judy Chicago and her team of researchers struggled with the task of deciding who was to be invited to the table out of the more than 3,000 women researched. In the installation, there are 39 historical and mythical women of achievement at the table and 999 corresponding women's names honored on the Heritage Floor where the table rests.
Extending the Invitation builds upon Encounter 1: Table Talk and strives to deepen the students' contextual knowledge about The Dinner Party. It introduces yet another dimension of the artwork and requires students to think metaphorically. Through this Encounter, students are involved in choice-making and negotiation with others; students may have to give and take and let go of preconceived notions about their selections. To view the entire Encounter, download the PDF for Encounter 2: Extending the Invitation and Classroom Connections: Who Has Made Great Contributions to Our World? by clicking on the buttons below.
Back to Encounter 1 | Encounter 2 | Go to Encounter 3
Encounter 1 | 2 | 3 | 4 | Feminism | 5 | 6 | 7 | 8 | 9 | 10 | 11 | 12 | 13 | 14