Grade Levels: Upper-Elementary, Middle, High School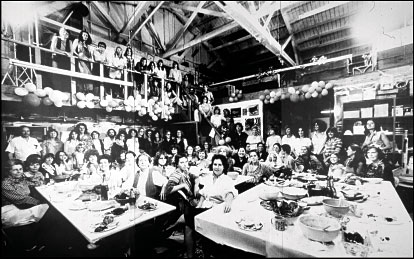 In this Encounter, students celebrate their new knowledge and understanding as their study of The Dinner Party comes to a close. The structure and focus of the Encounter can vary, but a collaborative creation of a celebratory meal remains as its core. Students and their teacher design and implement a "dinner party", considering such things as the program, the guest list, decorations, menu, and room arrangements. They also consider ways to demonstrate what they have learned while exploring The Dinner Party by Judy Chicago.
During the making of The Dinner Party, on Thursday nights Chicago and her team of collaborators met for potluck dinners. These dinners were times for voices to be heard, struggles and problems to be addressed, and creative ideas to be shared. One goal for this Encounter is to remember and recognize the importance of these traditional meals. Another is to understand the connection between the artwork and the idea of a celebratory meal. In addition, the Encounter provides an opportunity to reinforce a sense of community shared by members of the class, and to provide closure for their study. To view the entire Encounter, download the PDF for Encounter 14: Dinner as Tradition and its Classroom Connections by clicking on the buttons below.
Back to Encounter 13 | Encounter 14
Encounter 1 | 2 | 3 | 4 | Feminism | 5 | 6 | 7 | 8 | 9 | 10 | 11 | 12 | 13 | 14